EASI has been invited to speak at the 2022 Annual Meeting of the Northern California Appraisal Institute.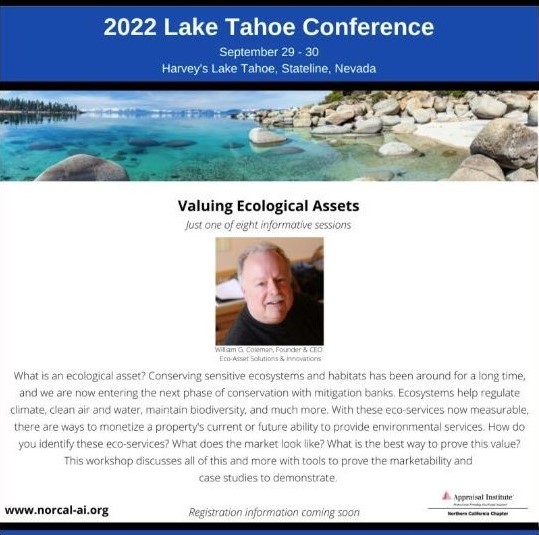 The meeting is scheduled for September 29-30 and will be held at Harvey's Lake Tahoe located in Stateline, Nevada.
The workshop presentation, titled 'Valuing Ecological Assets', will be given by EASI's founder and CEO William Coleman.  
Ecological assets are a market based representation of the economic value of ecosystem services. These services turn out to be the foundation for all economic activity and quality of life.  Land valuation should therefore be informed about opportunities to develop these assets on rural properties.
Examples include air quality credits (especially carbon credits), water quality credits, wetland and stream mitigation credits, and conservation credits. Rural lands can generate assets in each of these categories.
All such credits have developed increasing value over the past thirty five years as a mechanism for complying with environmental regulations included in the Clean Air and Clear Water Acts as well as the Endangered Species Act. Credits are also awarded to incentivize compliance with various waste management and toxic substance regulations.
Coleman will discuss the origins of land, water and biodiversity ecological assets and how they are valued in today's mitigation credit marketplace. He will provide case studies from projects completed over the past several years. And he will illustrate some of the tools and techniques that are available to support this approach to land valuation.
For more information contact senior appraiser Matt Atwood at Joseph J. Blake and Associates, Walnut Creek, CA, 925-482-1376 or matwood@josephjblake.com.