Congratulations to EASI's Chief Ecologist, Tom Foti, who was presented a Lifetime Achievement Award by the Natural Areas Association (NAA) in September of this year.
The NAA presented Tom its 2022 George B. Fell Lifetime Achievement Award at their annual meeting in Duluth, MN,
Each year NAA recognizes individuals who demonstrate the highest standards of leadership and achievement in the natural area profession. The NAA and its Awards Committee present the Award to an individual who exhibits the highest qualities of the profession and who significantly advances natural area identification, protection, stewardship or research, and the mission of the NAA. The Association reserves its highest award for those who accomplish exceptional achievements.
Tom has worked to protect and restore Arkansas' natural heritage for more than five decades. He was instrumental in bringing management to natural areas in Arkansas, convincing skeptical colleagues and administrators that prairies need fire, overstocked woodlands need thinning, and invasive species need removal. He is Ecologist Emeritus and retired Senior Ecologist at the Arkansas Natural Heritage Commission, an agency motivated by Tom's work and founded in the late 1970s.  Additionally, Foti has written numerous scientific and cartographic publications, co-founded the Arkansas Multi-Agency Wetland Planning Team, and helped save the iconic Cache River Basin from channelization. 
"Tom has a bold vision and always has creative solutions to complex conservation problems," said Lisa Smith, NAA Executive Director. "It is abundantly clear that he has been a hero for Natural Areas for over 50 years. NAA enjoys celebrating conservation leaders like Tom who spend their life's work protecting important places while educating others about their importance."
Tom became a colleague, friend and mentor to EASI's founder William Coleman during the 1970s. He inspired many other people in the regional Ozark Society, the Arkansas Wildlife Federation and the Arkansas Conservation Coalition. These groups, including Foti and Coleman, fought for wetlands and watershed protection, water quality improvements and wilderness designations across the five natural areas Tom identified in his Arkansas Natural Plan published in 1974.
Although he retired from the AR Natural Heritage Commission some years ago, EASI is now proud to claim Tom as part of their own. Since 2014, he has conducted numerous ecological surveys for EASI in California, Florida, Texas and Hawaii.
For more information about the Natural Areas Association see the award announcement here: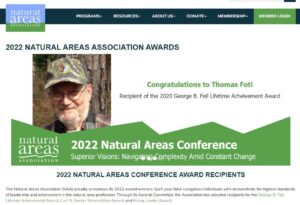 You can watch a short Youtube video about the award, including Tom's engaging acceptance speech here: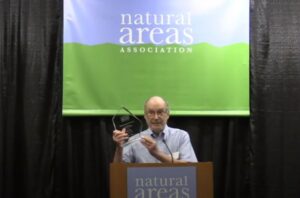 XXX