– Thinking about developing mitigation credits on your farm or ranch? 
– Need to buy mitigation credits to compensate for project impacts?      
– Want to know what prices local sellers have been seeing?
……….
EASI's proprietary Mitigation Credit Price Report (MCPR) can improve project budgeting and compliance.  
……….
The MCPR can also improve the accuracy of Return-on-Investment Estimates for New mitigation bank projects.
………. 
The Mitigation Credit Price Report (MCPR) provides bid, ask and sales price records for compensatory mitigation credits from across the U.S., from the 1990s to the present.   The database includes nearly 1000 records and is growing every week.  It includes market price references for:
Species credits

Habitat credits

Nutrient credits
This information can:
Inform buyers and sellers about comparative credit prices, optimizing project transactions
Inform investors about market trends, patterns and opportunities, as well as project ROI
Provide land owners and real estate appraisers with reference points supporting property valuation
Provide regulators with reliable market data supporting resource protection, regulatory enforcement, as well as establishment of In Lieu Fees
Why report on mitigation credit prices? 
The mitigation credit marketplace is still relatively new.  While the volume of credit transactions is steadily growing, market visibility remains limited. Market transparency has been low and credit price volatility has been high.  But the ecological economy is rapidly expanding.  Ecosystem service values are on the minds of regulators, NGOs, business and industry and landowners alike.  The MCPR overcomes market inefficiencies and encourages market growth by improving credit price transparency, reducing credit price volatility thereby ensuring more knowledgeable, confident market participation.
What does the MCPR cover? 
The mitigation credit database currently contains just under 1000 references for U.S. mitigation credit market values from the early 1990s to the present day.  The number of MCPR records grows as researchers gather new data to support new projects across the U.S.  Each record is given a unique identifier for tracking and reporting purposes, making it a permanent representation of mitigation credit market value at a designated location and point in time.  Records are shown in relation to transaction geography including state, county and city, as well as habitat type if available.  Records represent bid-ask prices, advertised sale prices and market value estimates, or actual transaction prices.
MCPR can be 'sliced and diced' in many different ways, whether geographically — for the entire U.S., by counties and cities — or by credit providers including mitigation bank names as well as primary and secondary credit types.  Below is a sample representation of the data.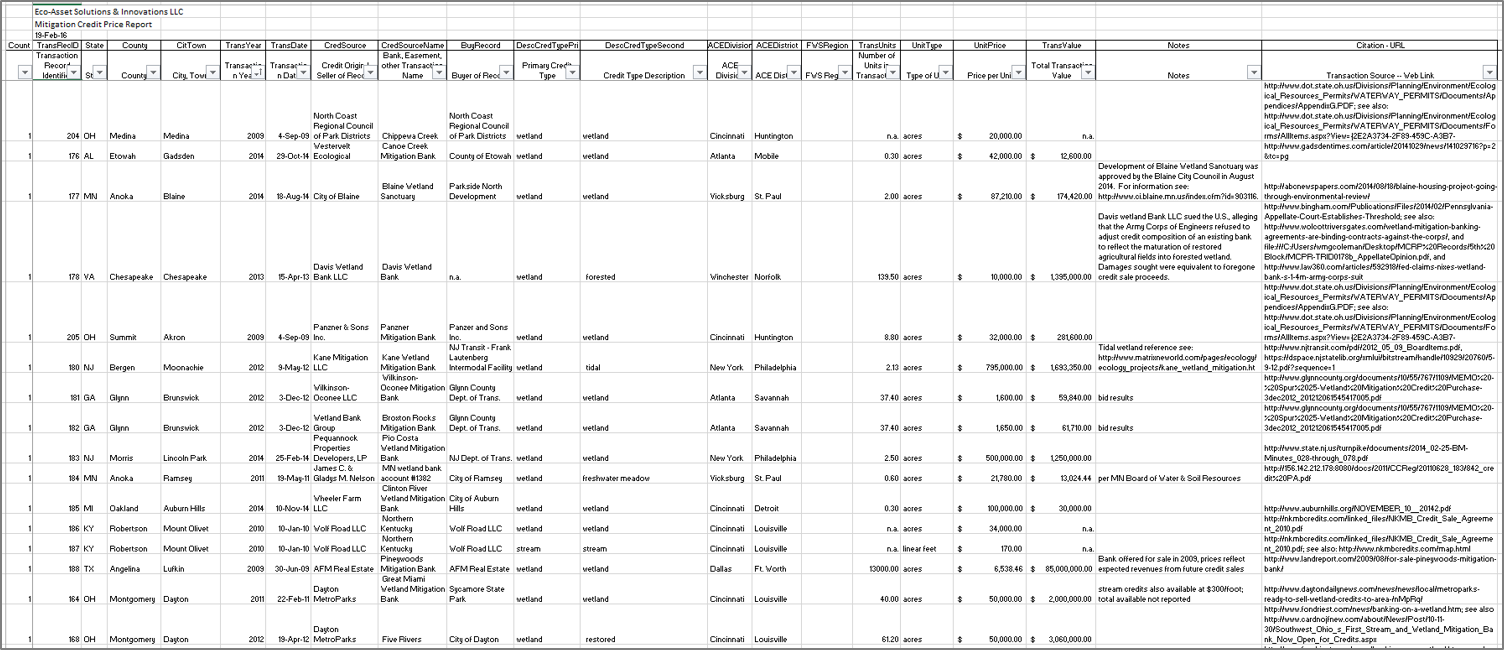 MCPR – sample Excel file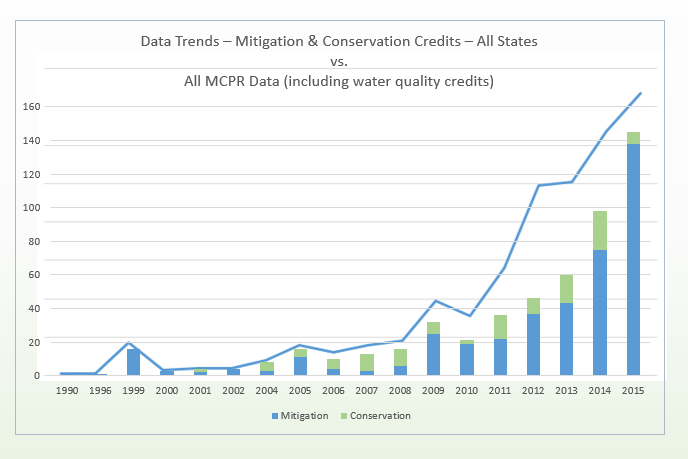 Comparing the number of wetland and conservation credit price records, 1990-2015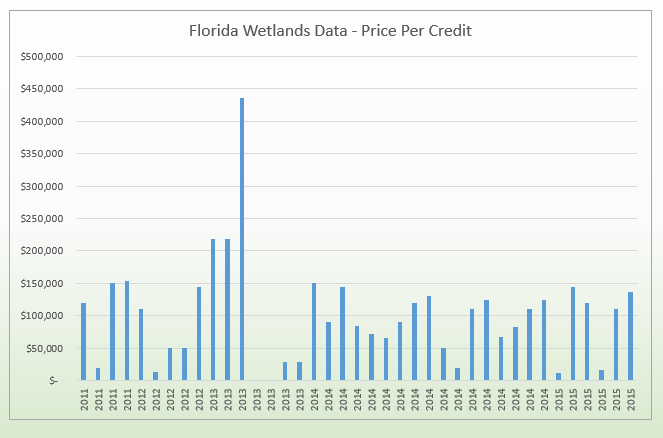 Sample Florida wetland credit prices, 2011-2015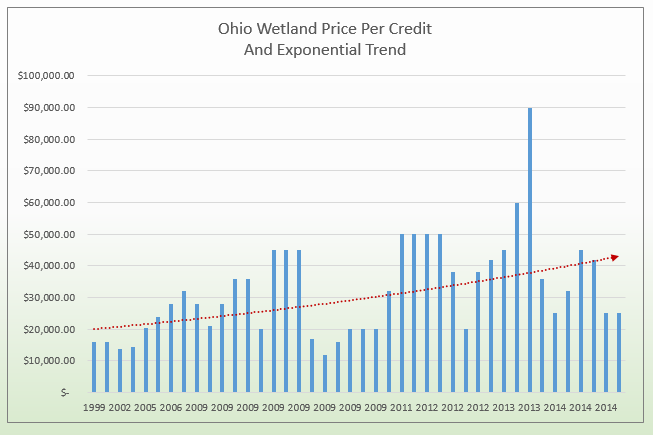 Sample Ohio wetland credit prices and price trends, 1999-2014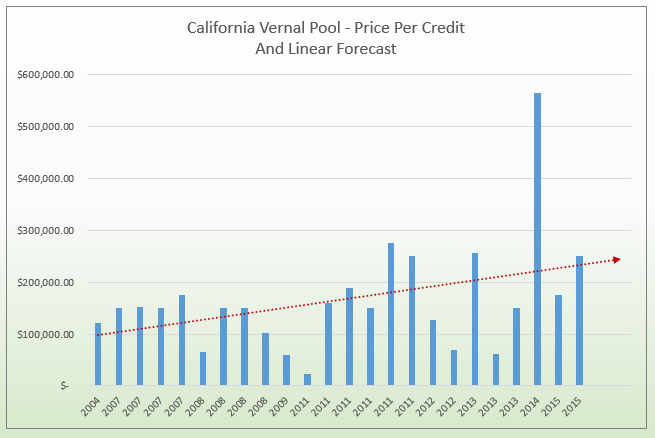 Sample California vernal pool conservation credit prices and price forecast, 2004-2015+
EASI's companion product, the Mitigation Credit Availability Report (MCAR), offers an up-to-date, accurate inventory of compensatory mitigation credits available from the nation's 1200+ operating commercial mitigation banks.  The MCAR presents the number, type and distribution of both U.S. mitigation and conversation credits.
Together the MCPR and MCAR increases market transparency and reduces project uncertainty.  These are unique, long-awaited risk management tools serving the entire mitigation credit marketplace.
Order MCPR data packages via the preset options given below:
Please review the MCPR License Agreement before ordering.
Contact us today at info@easillc.com to discuss your mitigation credit pricing needs.