EASI has been featured once again by the mainstream online provider, Ecosystem Marketplace. 
Since 2007, Ecosystem Marketplace has been publishing newsletters, breaking news, original feature articles and major reports about market-based approaches to conserving ecosystem services.  EASI has been featured six times since 2014.
The Top Story for the website's 12 August, 2019 front page is titled Ten Things Rural Landowners Should Know About Ecological Land Value.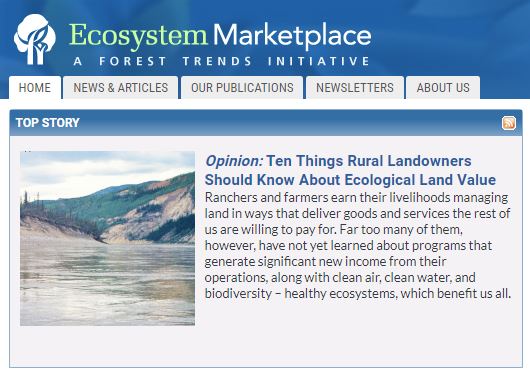 The article summarizes the lessons learned while EASI staff was preparing its 2019 Land Value Slide Deck. 
Lessons include methods to evaluate mitigation banking opportunities while sidestepping potential pitfalls that can appear.  The lessons also emphasize the importance of having a thorough eco-asset based appraisal done for rural properties.  
Landowners deserve to know about the market value of eco-assets that may be present on their properties. Eco-asset values can actually redefine what appraisers call 'highest and best use' for a property.  Highest and best use means the reasonably probable use of land that results in the highest value once all the business factors have been evaluated, according to the U.S. Appraisal Institute.   When all the costs and benefits of potential land uses have been studied, and mitigation banking becomes the defined highest and best use, a landowner can expect to see strong return on investment from developing mitigation credits for sale.
For more information contact EASI at info@easillc.com.